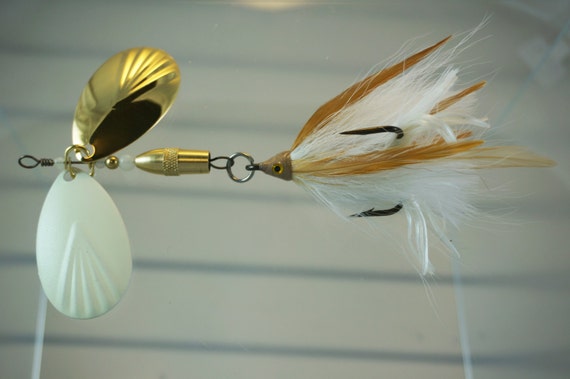 Gold & Glow FlyStyle Muskie Bucktail
Natural brown hen saddles trail and case a white marabou and deer hair bucktail fixed on a 6/0 VMC O'Shaughnessy treble. FlyStyles spin dual #8 Indiana blades in gold and painted white glow and the FlyStyle Lights have dual #7 Indiana blades and a lighter weight which is great for working around snags or using lighter combos. Each hook is tipped with glow crappie tubes for added nighttime visibility.

The FlyStyle is pictured first and in the top of the second photo, while the FlyStyle Light appears below and last. Pictured fourth is the Flatulator version which spins dual #8 Indiana blades in painted white glow and gold and are trailed by a repurposed CO2 cartridge body painted in white glow and tan scale which leaves a trail of bubbles when retrieved!